US states population
Population statistics and maps (population, density and changes) for every state in the US. Most populated states are California, Texas and Florida; together these three states have population of almost 90 millions. States with largest population density are: District of Columbia (due large population and small area, with almost 10,000 p/mi2) and New Jersey (with approximately 1000 p/mi2). State with largest population changes (interval 2010-2015) is North Dakota, and the only state where population was reducing (for this period) is West Virginia. Below maps is a list with all states (or you can use search field).
---
Maps: Population, population density, population changes
Estimated population for 2015[1]. Population density is in p./sq.mi [2]. Changes are for period 2010-2015. Value is %/year. Boundary lines are approximatelly 2012 [3].
Population • Density • Changes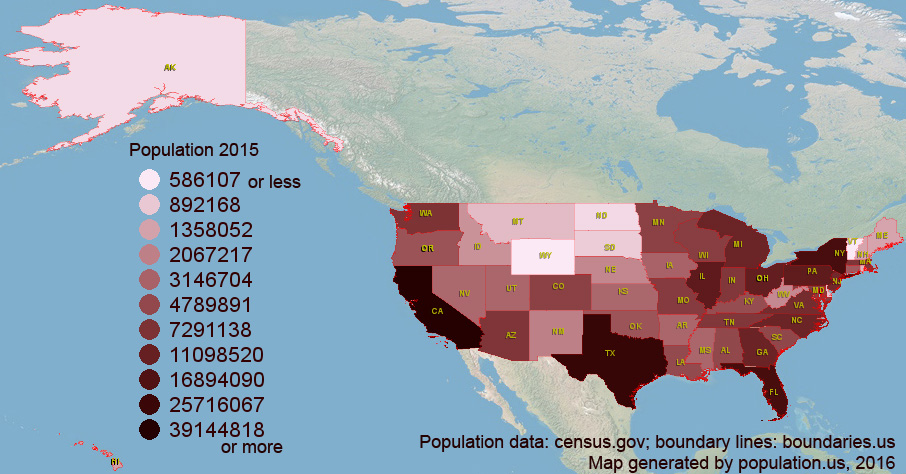 Search
Ads
Do you like population.us?
State population, density and changes
Population density is in [p/mi²], changes are for period 2010-2015 in %/year. Click on state name to get more details, historical population and position on map.
---
Sources, notices
[1] State population - 2015, census.gov, Archived from the original, retrieved 02/23/2016
[2] United States Summary: 2010, Population and Housing Unit Counts, 2010 Census of Population and Housing, State areas, PDF 35 Mb, September 2012. pp. V–2, 1 & 41 (Tables 1 & 18). Retrieved February 24, 2016.
[3] State boundaries, CSV files on boundaries.us, retrived 03/18/2016